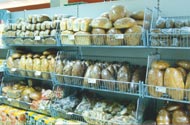 Europe Supermarket is a shopping mall featuring, with many fine specialty departments. Founded over three years ago, the company believes that the depth and experience of its management team is vital to the company's future. Since its establishment, the company's business operations have experienced growth. While having established a strong foothold and become one of the leading supermarkets in Bishkek, the company has been aggressively developing the mainland market. The company gains an competitive edge in its business operation and yields a good return. The mission is to make shopping acceptable for consumers who value quality products, cleanliness, convenience, and personal service. At Europe supermarket we pride ourselves in being able to offer our shoppers a truly unmatched shopping experience.

Located at the corner of Toktogula and Ibraimova streets in the center of Bishkek. For shoppers who prefer to take bus, Europa Supermarket is just 2 blocks from Central Market on the Chui prospectus.

We have a large selection of cheese for all occasions in every kind of style, sausages, dairy products, meat, fish and vegetable canned food, sauces, ketchups, mayonnaise, seasoning.

This store carries various fresh and freeze fruits and vegetables. We offer a great variety of foodstuffs, cigarettes, wines, cognac, beer, and spirits, beverages, natural juices, mineral waters, and quality services to their customers. Many hard to find sea food can be found including crabs, shrimp, and much more.

Besides...A variety of a children's meal, tea, coffee. This store carries cakes galore. We also carry many sugar-free candies, syrups, and sauces. Corporate packaging available.

The stores at Europe Supermarket are a collection of unique goods which carry a variety of unique items. There are distinctive kinds of goods under one roof. One of the largest displays of collectible goods and accessories in Bishkek. From the showcases filled with apparel, paper products, gifts, to the huge choice of food for any case, this shop is a great place to find something out of the ordinary for that special man. As stunning to the eye as to the palate books, music, jewelry, glassware, teas and food, and perfumes are some of the items available. Shop us for a complete selection of leather coats, hats, sport team caps, purses, wallets, belts, gloves, personal care products, household products, and many unique ideas. The store to find that special gift for the man who has everything. We also carries gift wrap, ribbons of many colors, and gift bags in the latest designs and trends. Beautiful stationary and special keepsake books are also available.

Customer Service

The Customer Service Center is located in the center of the our shop. A variety of customer services are available, including:
Directions within the mall and in the local area.
Exchange office.
Drug-store.
Wheel baskets.
You may purchase with cash, check, or Visa/MasterCard, Union Card or cash. Corporate orders are taken through the management office. Discount for the wholesales purchase is available. Your order will be processed and ready for you to pick up when you wish, or we can arrange for delivery.
Recognizing the dynamic nature of the retail business, we constantly seek ways to enhance the consumers' shopping experience. For fine suiting, casual business, or dressy casual, Europe supermarket is the source for contemporary classics. Our objective is to create exciting malls that dominate the marketplace, while making our center as productive as possible. We welcome interested parties to contact us for business cooperation.
We hope that you will find this site informative and visit our supermarket in the near future.